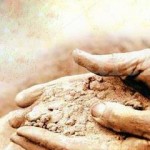 The season of Lent prepares us for the splendor of Easter and the power of the resurrection. We begin by turning our attention to the stark realities of our human existence. Our world is filled with sin and death. The Good News of Christ's redemption is good news only in so far as we recognize and confront our frailty and weakness. Lent asks us to remember this truth as we make our way to Easter and the symbol with which we start our Lenten journey is ashes. 
Often the use of ashes is thought of as being too "Catholic." The truth is that ashes have been used as a sign of penitence in the time before Christ as well as in the early church. The use of Ashes is a sign of our humanity and a reminder of our mortality. So it is that the journey from Lent to Easter is a journey from death to life, from ashes to fire.
On February 10, we will join together with the other Presbyterian churches in New Castle to begin the season of Lent. We will have a light supper at 6:00 PM in Fellowship Hall to be followed by an Ash Wednesday service in the Sanctuary. The service will include singing, prayers, a brief message and, if you wish, the imposition of ashes. You may also write on a card those things you wish to repent of and pin them to the cross. At the appropriate time during the service the worship leaders will model the imposition of ashes with one another. This will be followed by an open invitation for anyone to come forward to participate. You may choose to have the ashes imposed on your forehead or the back of a hand.