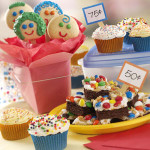 Calling all bakers: we need your help! The Election Day Bake Sale returns on Tuesday, April 26.
As always, we are grateful for the wonderful support that we get from our Clen-Moore family. We are in need of your baking skills yet again. We ask that you drop off any and all baked goods by Monday, the 25th, at Noon (or early Tuesday morn- ing, as long as your items are pre-wrapped for individual sale).
Anything that you are able to donate, the youth will appreciate it very much. All proceeds from the sale will go to support youth mission trips and retreats.
In addition, if you are available to help run the table during election day for any length of time, that would also be appreciated. Please contact Aaron if you are able and willing to help run the table.
Sign-up sheets will be provided in the church bulletins during the weeks leading up to the bake sale. Thanks again for your support of the youth ministry at Clen-Moore Church!