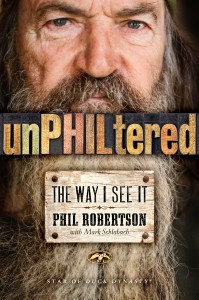 This fall, the men of Clen-Moore will study the book "UnPhiltered," by TV personality Phil Robertson.
Phil has his own company. He has had his struggles in life. One of his decisions helped Terry Bradshaw win 4 Super Bowls. He is the patriarch of one of the most visible Christian families in America. Phil Robertson – of Duck Dynasty – has an opinion on everything.
Join the discussion! October meeting dates:
Oct. 11
Oct. 25
November's meeting dates to be announced. All meetings start at 6 p.m. in the Church Parlor unless otherwise announced.