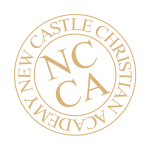 This month's Opening Doors mission spotlight focuses on our next-door neighbors, the New Castle Christian Academy. We are privileged to have many people in our congregation involved in NCCA: parents, students, alumni, board members, teachers and staff.
NCCA was formed in 1991, during a teachers' strike in the New Castle Area School Dis- trict. From its humble beginnings, a ministry of academic excellence and biblical values has emerged.
In its 25 years, NCCA has produced at least 20 high school valedictorians/salutatorians. Countless numbers of children and their parents have accepted Christ through the school.
NCCA teachers & staff view their work as a mission. Clen-Moore participates in this mission in many ways. Pastor Chris Weichman and our Director of Youth & Family Ministries, Aaron Christy, have both conducted weekly Chapel services at the school. Our church supports the school financially, as well, with regular mission contributions as well as occasional emergency funds.
Throughout the month of April, several Clen-Moore members with a connection to NCCA will share their experiences with this important church mission. We hope you will be blessed by their testimo- nies.