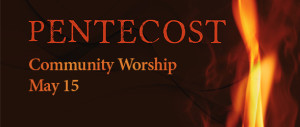 Clen-Moore is once again joining other Presbyterian churches from New Castle for a community worship service to celebrate the coming of the Holy Spirit and the birth of the church
Join us at New Castle Jr/Sr High School on Sunday, May 15 at 10:30AM, following your regularly scheduled Sunday School class at Clen-Moore.
Nursery and child care will be provided by our combined church staff. You will be able to give your regular church offering to Clen-Moore; there will be designated baskets for each church and a free will offering for a charity to be determined.
This community worship service has been a tradition for the past five years, in collaboration with First, Highland, Third, Northminster and Shenango Presbyterian churches.
Worshipping together at Pentecost is also a poignant reminder that we are all members of Christ's church. What a great way to celebrate the birth of the church!