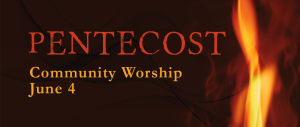 Pentecost Sunday is June 4. For the past four years. we have worshipped with the other Presbyterian churches of New Castle. We will gather again this year, with a twist: We will worship at 10:30 a.m. at Northminster Presbyterian Church.
We will have Sunday School that day at Clen-Moore but end at 10 a.m. to allow time to go to Northminister. Nursery and child care will be provided by combined church staff. You will be able to give your regular church offering to Clen-Moore in designated baskets for each church. In addition, a free will offering will be taken for the New Wilmington Mission Conference.
New Castle's clergy believe worshiping in a church provides better facilities, particularly for children; a more worshipful experience; and allows us to show hospitality to our Presbyterian brethren. With this in mind, future Pentecost services will rotate between our various churches.