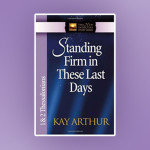 Winter break is over and the Women's Bible Study is ready to meet again.
Our first meeting is scheduled for February 3rd. Walking and light exercising begins at 6:30PM; Bible Study begins at 7:00PM. Use the Circle Drive entrance and meet in the old Coffeehouse on the third floor (by the elevator).
This semester's Bible Study will use the book Standing Firm in These Last Days by Kay Arthur. The book is based on 1&2 Thessalonians.
The Bible Study will meet on the first and third Wednesdays of the month, February through May. Women (and young women) of all ages are invited. You do not need to be a member to attend.