We've Met Our Goal!!
Clen-Moore launched "Opening Doors": a significant effort to expand our ministries and reach people on behalf of Jesus Christ.  We set the challenging goal of $590,000 in pledges and we have surpassed our goal! As of January 1, 2014, God has blessed us with $630,000 in pledges!
If you are one of the hundreds who answered God's call and pledged to support Opening Doors, we are grateful for you! Follow this link to find more information on how you can meet your pledge.
How It Began
Opening Doors started with a gift from the Genkinger family, who wished for a more accessible entrance into Clen-Moore. The gift was gratefully accepted and prompted the question: "What more can we do to make Clen-Moore hospitable to its members and guests?"
The answers can be found in the following three-phase construction plan:
A Main Entrance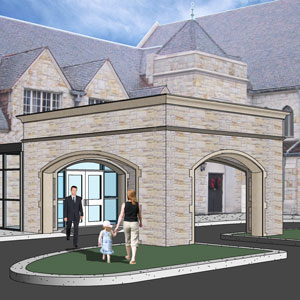 Covered entrance from Circle Drive to shield worshippers from the elements.
New handicapped parking spaces.
Automatic doors into the Church building for handicapped access.
New welcome space in the current Chapel provides one main gathering place.
Church Office moves to the current Nursery, to accommodate weekday visitors.
An Updated Sanctuary
Expanded Chancel area creates a versatile space to accommodate a variety of worship celebrations.
New wheelchair lift makes Chancel accessible to all.
Lowered Choir loft for easier access.
Hide-away projection screens for announcements, hymn lyrics, etc.
New audio system to improve sound quality for listeners.
A Well-Maintained Roof
Red tile roofs on side of Sanctuary are replaced with more durable material.
Work Begins
Crews broke ground on Phase I of the project, to create a new main entrance, in October 2014.
Interior Work Begins
Exterior Completed, Interior Continues
Interior Work Nearing Completion
The Finishing Touches
First Worship Service in the Updated Sanctuary