Sunday School is offered every Sunday – year-round – at 9:15AM. Our dedicated teachers help the children grow in their faith. Classes are offered in the following age groups:
NURSERY (Birth – Age 2)
PRESCHOOL  (Age 2 – 4)
PRIMARY (K – 3rd Grade)
JUNIOR (4 – 7th Grade)
JR/ SR HIGH (8–12th Grade)
The Nursery is located down the hall from the Sanctuary, on the Circle Drive side of the church.
Classrooms for children 2 years to 6th Grade meet upstairs from the Nursery, also on the Circle Drive side of the church:
Preschool (ages 2 – 4) meets in room 304.
Primary (K – 3rd Grade) meets in the Primary room behind rooms 303 and 304.
The Junior Department (Grades 4 – 7) meets in room 303.
Jr./Sr. High (Grades 8 – 12) meets on the other side of the church, on the third floor of the new wing. Enter the church from the parking lot side and take the stairs (or elevator) to the third floor.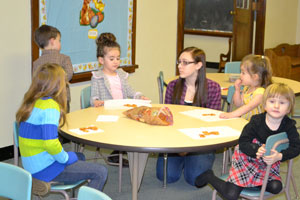 During the worship hour (10:30-11:30AM), child care is available for Nursery and Preschool children.  K – 7th graders may join their parents for the first part of the worship service, then leave the Sanctuary to participate in Children's Worship, in the Primary Department.